Interested in learning more about what Barracuda has to offer? Please contact us at 985-262-4776 or complete the form below to send us an email.
One belief that is shared by all of Barracuda Specialty Service LLC senior management is that our people are our number one asset.
Safe Work Environment
Our HSE policies form the bedrock of our corporate culture, if a job cannot be done safely, it will not be done by BSS. We strive for zero accidents and are committed to creating a safe work environment for our employees, our customers and everyone within our work environment.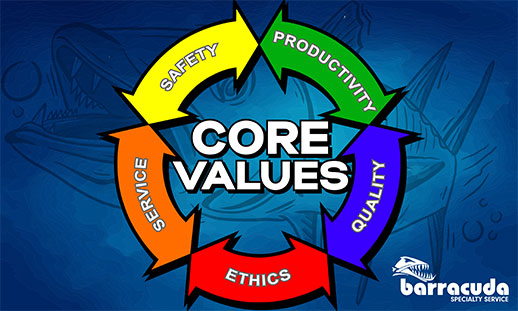 At Barracuda Specialty Service LLC, we believe that our safety policies should be derived from the people that that are immersed in the environment that we strive to protect them from, therefore, we listen to our employees, contractors, and clients in order to have the best Health, Safety, and Environmental (HSE) performance in the industry.
We invite recommendations from our employees, contractors, and clients to better our performance, evolve with modern technology to eliminate any chance of damage to the environment or our employees' health.
We continuously strive to improve the well-being of our employees and the environment that surrounds them and actively reexamine and update our policies. At BSS our safety goals may seem ambitious but the rewards of having our employees return home safety to their families is well worth the effort.